Introduced to yoga in 2007, Libby Campo came to the belief that everyone can benefit from the powers of yoga on and off their mats. Her personal practice evolved over the years such that now it has become a daily ritual of mindfulness and kindness that permeates both her personal and professional lives. In 2012, Campo studied yoga at the University of Memphis under Pat Fielder and became a certified yoga teacher, studying under Amy Morse in 2015. Upon graduating, she opened Your Inner Yogi studio in Downtown Memphis to be a resource for anyone interested in discovering the art of yoga. Libby has since studied Ashtanga Vinyasa with the world-renowned Gregg Tebb and earned additional certificates in Yin Yoga with Kelly Seitz, Restorative Yoga with Stacey Beth Shulman, Yoga Nidra with Dr. Nick Atlas and currently earning her Yoga Therapist certification.
Off her mat, Libby Campo has devoted much of her professional life to helping others build self-confidence and awareness in the Human Services field, serving families and adults with intellectual and developmental disabilities. The core facets of her experience and education in Organizational Leadership and Behavioral Sciences led to work in a field that improves the mental health and personal well-being of others. Her enthusiasm for her work presented an opportunity for her to seek other ways to help improve the quality of their lives.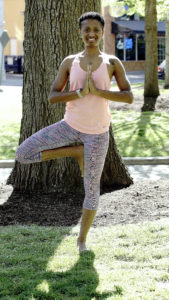 Yogi, professional and mother of three, Libby has learned that less is more and has observed the impacts of society leading us to push ourselves beyond our limits. She believes that slowing down and connecting with our breath is essential, and that we all have a place on our mats, no matter one's age or fitness level.